Sindel
Origin: Edenia
Alignment: Good
Allies: Kitana, Jade
Foes: Shao Kahn, Tanya
Difficulty: 3
Fighting Styles: Zha Chuan, Fu Jow Pai
Weapon Name: Kwan Do
Biography
Once again Edenia had been invaded by an Outworld threat. The Dragon King flooded this realm with Tarkatan warriors and held me captive in my own prison. My only daughter, Kitana, had somehow become his slave and guarded me night and day. I remained captive, for I could not bring myself to assault her, even to regain my freedom. Thank the Elder Gods Jade did not share my apprehension.
Ending
Although Onaga had returned from the dead, he did not reinhabit his original body. Sindel and Jade found his sarcophagus opened. His body remained, but the armor was missing. Strangely, the hieroglyphics in his tomb were similar to an ancient Edenian language. She discovered an incantation, inscribed by Onaga's holy men, that was intended to transport his soul back into its original body. As she was memorizing the spell, Onaga emerged from the shadows. Onaga could have defeated both Jade and Sindel, but instead he took sadistic pleasure in unleashing Kitana against them. He was a fool. Jade held off Kitana while Sindel thrust her Kwan Dao into the heart of the corpse. As she screamed the ancient incantation, Onaga's soul leapt from Reptile's body into its intended vessel. The corpse came to life and cried in agony as the Kwan Dao prevented its heart from reforming. Sindel held the blade firmly in place as Onaga returned to the cold sleep of death.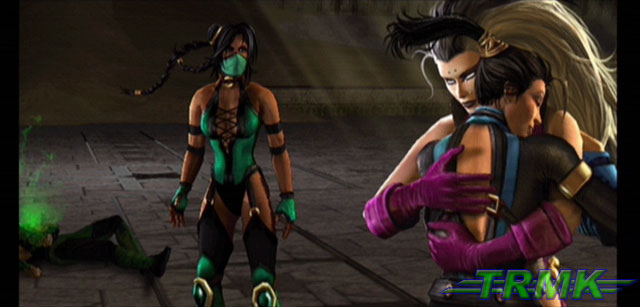 With the Dragon King defeated, the realms were safe and Sindel's daughter, Kitana, was free from his spell. May Edenia know peace once more.
How to Unlock
Krypt SJ - Key Found in Netherrealm:D-1 @ 9pm-4am
Special Move
Banshee Scream:
Star Screamer:
Sliding Foot Grab:
Heel To The Gut: [SM]
Style 1 Move
Yoke Punch:
Chest Clincher:
Mantis Claw:
Roaring Overhead Hammerfist:
Southern Uppercut:
Rising Axe Kick:
Spring Leg:
Low Spring Kick:
Twisting Sweep:
Southern Sidekick:
Slithering Foot:
Moslim Fists:
Justice:
Burning Fist:
Spider Legs:
Revenge:
Cunning Killer:
Killer Kick:
Sneaky Fist:
Style 2 Move
Straight Claw:
Knee Strike:
Knee Claw:
Upward Paw:
Tiger Strike:
Uppercut:
Back Kick:
Spinning Low Kick:
Roundhouse:
Lifting Kick:
Shin Kick:
Low Toe Kick:
Bloodshed:
The Queen:
Wandering Claws:
Black Tiger:
Black Widow:
Khan's Kontrol:
Darkness:
Burning Rage:
Weapon Move
Gauging Slash:
Berserk Chop:
Chin Cut:
Head Chopper:
Twisting Hilt:
Turning Amazon:
Reaching Edge:
Ranged Blade:
Feet Cutter:
Rising Kwan End:
Whirlwind Chop:
Liver Slice:
Head Saw:
Ancient Secret:
Sindel's Edge:
Cutting You Up:
Slashing Queen:
Keeping Distance:
Fatality
Fatality: (Sweep)
Fatality: (Sweep)
Hara Kiri: