The official
Mortal Kombat Armageddon
website,
MKArmageddon.com
, has updated with a new high quality render of
Goro's Lair
from the upcoming game.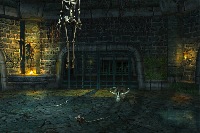 [size=2](Click to Enlarge)
Be sure to check back to
MKArmageddon.com
on
Wednesday May 10th, 2006
as they promise to release new "Kontent" up on the website. Also don't forget to check back here for the latest information from the E3 show floor on both
Mortal Kombat: Unchained
for the
Sony PSP
and
Mortal Kombat: Armageddon
.
Thanks to forum member satinsoven.