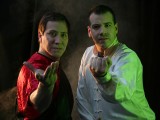 Press Start
, a feature-length comedy movie featuring videogame themes; and
featuring two former Mortal Kombat actors
; has released the first episode of
"Press Start: Bonus Levels."
"Press Start: Bonus Levels"
is a new series of web cartoons that explain more of the characters' backstories than the creators could fit into the movie itself. They even hint at many surprises for videogame fans out there. New episodes are posted the last Friday of every month and can be found at
PressStartMovie.com
.
Here is the synopsis of the first episode,
Beer Comes A New Challenger
:

The premiere episode finds irate ninja Lin-Ku at a bar, fuming over an unexpected turn of events at a recent fighting tournament.

Read the entire
press release
, and check out the production's
blog
for even more information on the progress of the movie.