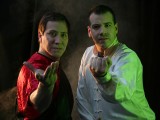 Press Start
, a feature-length comedy movie featuring videogame themes, has announced an addition to their cast that would peak the interests of the
Mortal Kombat
fan.
Daniel Pesina
, best known for his roles as Johnny Cage, Scorpion, Sub-Zero, and Reptile from the first two
Mortal Kombat
arcade games, and
Carlos Pesina
, known for his work as Raiden in the first
Mortal Kombat
and most recently the man behind the majority of the motion capture work and fighting styles featured in
Deadly Alliance
and
Deception
, are lending their talents to the project.

It's a thrill to have Daniel and Carlos onboard, beams director Ed Glaser. Not only are they skilled and professional, not only are they living videogame icons, but they have a terrific sense of humor about what they do. I think videogame fans are going to love seeing them in these roles. Viewers who realize that they're watching the Real Deal will find that extra level of humor that makes their scenes just a bit funnier.

Press Start tells the story of a suburban youth in a videogame world who discovers his adventurous, if berserk, destiny when he's recruited by an ill-tempered ninja and a tough-as-nails space soldier to save the world from a tyrannical, but comically insecure, sorcerer.
Read the entire
press release
, and check out the production's
blog
.