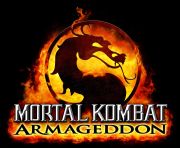 Midway
today
officially annouced
the final chapter in the
Mortal Kombat
universe on current-generation consoles. After a world-exclusive
Game Informer
article and a media blowout at
IGN
,
Midway
issued a press release declaring the game's existance, along with the official logo.
Mortal Kombat: Armageddon
, featuring the most extensive cast of playable characters in the series to-date and an all-new create-a-fighter mode, is currently in development for the
PlayStation 2
and
Xbox
and is expected to ship
Fall 2006
.

"As the final chapter of Mortal Kombat on current generation gaming platforms, we're eager to raise the bar for the fighting genre yet again with Mortal Kombat: Armageddon," said Steve Allison, chief marketing officer, Midway. "Building off of the tremendous successes of Mortal Kombat: Deception in October 2004 and Mortal Kombat: Shaolin Monks in September 2005, Mortal Kombat: Armageddon introduces the most comprehensive cast of playable characters from every Mortal Kombat title, both past and present, in addition to the first create-a-fighter mode in franchise history."
For more detailed information on the game's konquest mode, create-a-fighter, and user-created fatalities visit our
Mortal Kombat: Armageddon GameRealm
.