Yesterday was the latest update to
Injustice: Gods Among Us
, lots of new news and content for
Xbox 360
,
PlayStation 3
and
Wii U
. Yes, the Wii U finally got an update!
Injustice Patch v1.05
First, the 1.05 Title Update was released for all three consoles, yes even Wii U. This was a major change to the game, most generally finally improving anti-air attacks for everyone and lots of other balance tweaks. You can read the
official patch notes
, or check out
FGCSabin's Visual Patch Notes
which are embedded below:
DLC Content: Zod and New Skins
Also released yesterday was the 4th DLC character General Zod, he is now available for $4.99/400 Points on Xbox 360, PS3 and Wii U. He is of course free if you bought the Injustice Season Pass. Check out his new history story trailer below.
Also released was the
Superman Man of Steel Skin
for
$0.99/80 MS Points
as well as the
Blackest Night 2
and
Earth 2
packs for
$3.99/240 MS Points
each. The
New 52 Skin Pack
was also finally made available for purchase as well for those who didn't get it from a pre-order bonus. Check out the new skin images below: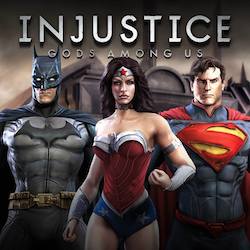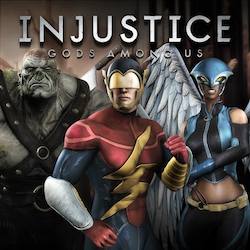 Also Ares new Classic costume is included with the Zod Compatibility Pack on Xbox 360 and included with the v1.05 Patch on PS3, you can check it out below:
Wii U Updates and DLC
So as we mentioend earlier, the Wii U FINALLY got a software update for Wii U. Along with the update, they released all the DLC for the game so far, so all four new characters are now available for purchase. ALSO it seems Warner Bros. have offered some new skin packs that are currently Wii U exclusives.
The Wii U Lockdown Pack is simply just a collection of the Injustice iOS skins packaged together since the Wii U doesn't offer the WBID sync system. It's possible that Warner Bros. may make this skin pack available on the other consoles at a later time. For $3.99 you get the following skins in the Lockdown pack.
Batman Beyond
New 52 Green Lantern
Knightfall Bane
Arkham Harley
Lockdown "Prison" Superman
They also released the formerly Japanese exclusive Ame-Comi skin pack, which includes new manga-influenced skins for Wonderwoman, Catwoman and Harley Quinn. Ame-Comi was a line of figurines in Japan and later a
series of comics
as well. Here's a look at the Ame-Comi skins in action:
Ed Boon EVO Surprise Tease
Also just now,
Ed Boon posted a tease to Twitter
about an Injustice surprise to be announced at
EVO 2013
.
Wonder what that could be, any guesses out there?