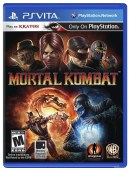 Anyone who has played through the new exclusive
Bonus Challenge Tower
Mortal Kombat
on the
PlayStation Vita's
knows how hard some of the challenges can get.
When you reach
Challenge #130
you may even ask yourself:
"Who thought up the challenge to hit Shao Kahn 60 times in 60 seconds? This is impossible!"
Well we say to please refrain from smashing your Vita, as the fine folks at
NetherRealm Studios
stepped up to show how it's actually possible in a new video. In the video below they clear the challenge with 8 seconds to spare!
But you may be thinking, that's a narrow margin of Victory. What's the lowest someone can get? Well our reader
@Iam_FACEL3SS
has an answer. He video recorded himself doing it in 30 seconds flat!
Do you have a few tough spots in the
Bonus Challenge Tower
that you need help with? Or doy you have a tip that someone may have looked over? Then head on over to our
Bonus Challenge Tower Strategy thread
.