It's Mortal Monday time again, and we got a fansite exclusive for you today.
NetherRealm Studios'
Community Manager
Rigo Cortes
sent over a high resolution render of the
Female Ninja Klassic Costumes
from
Mortal Kombat (2011)
. The one we get a look at is the
Jade
version of the costume that will be
bundled for free with the Mortal Kombat Blu-ray discs
. I love these retro style alternate costumes and glad that
NetherRealm Studios
decided to give fans the choice to retro up this game a bit.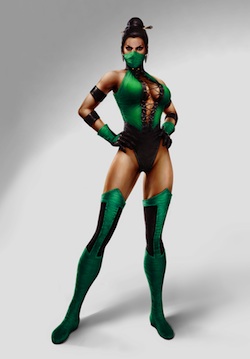 Click to Enlarge
Also, there is talk of some new content coming as a late
Mortal Monday
gift tomorrow. There are lots of theories out there, anyone have any guess what it'll be? To find out the news the quickest tomorrow, be sure to follow TRMK on
Facebook
and
Twitter
.