April
is not that far away as
Midway
prepares for release one of the first
mature
titles for the
Nintendo Wii
.
Mortal Kombat: Armageddon
is to feature a unique new control scheme, utilizing the
Wii remote
gestures to perform special moves with the ease of a flick of the wrist. To get that idea across,
Midway
released five new screenshots detailing the new control system.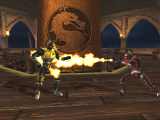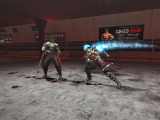 In addition to the control scheme, new features for the
Wii
version will include
Unchained's
Endurance Mode
, which is a battle against 20 opponents in succession with only one health bar. Online functionality will not make it as
Nintendo
didn't have the development tools available to the
MK Team
in time.
Mortal Kombat: Armageddon
for the
Nintendo Wii
is scheduled for an
April 2007
release.