Warner Bros.' new digital content division,
Blue Ribbon Content
, recently announced that it was producing a new
Mortal Kombat X related digital series
, slated to debut around the release of
Mortal Kombat X
in April 2015.
TRMK
has obtained an exclusive look at the casting notice for this new production and it details some new and potentially unannounced characters featured in the next
Mortal Kombat
fighting game.
WARNING POTENTIAL SPOILERS CONTAINED BELOW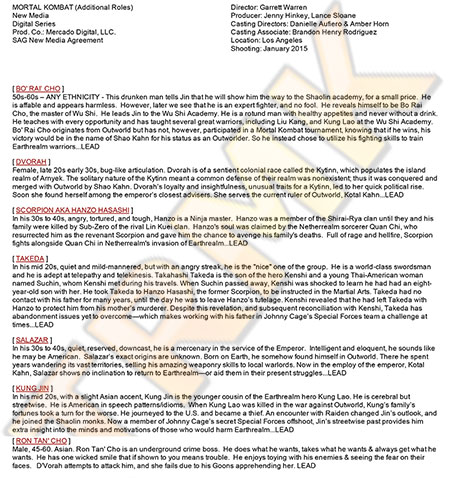 Some of the characters listed we've heard their names before associated with MKX, like
D'Vorah
. Another character,
Takeda
showed up in the comic released this week as the son of
Kenshi
and is not the Takeda mentioned in
prior folklore
. He is
rumored by the kommunity
to become a ninja known as Forrest Fox, but this is not mentioned in the bio.
On the new character front we have the familiar name
Bo Rai Cho
who is being mentioned for the first time in association with MKX. There are also three completely new names:
Salazar
,
Kung Jin
,
Ron Tan' Cho
each with some interesting bios. No relation is mentioned between
Ron Tan' Cho
and
Bo Rai Cho
, surprisingly enough given the similar names.
There is currently no way to draw conclusions between any of these characters and their playability in the MKX game, but it'd be a safe bet they'll show up along the way in the likely character deep Story Mode as at least a cameo role.
Also of note, the listed director
Garrett Warren
was the
Stunt Coordinator
and
Second Unit Director
on the
MK Legacy
series previously. This appears to imply that he may now be the full director of this new series and that
Kevin Tancharoen
is not returning to the directors chair. It also appears that the new series will begin filming this month.