Today
NetherRealm Studios
unveiled two new characters and stages for
Mortal Kombat (2011)
at
Gamescom 2010
in Germany. The two new characters are
Kitana
and
Cyrax
, who look great as they are very recongizable yet also have some new distinct stylings. Along with the new Kombatants, they unveiled updated versions of the Jade's Desert and the Belltower stages from
Ultimate Mortal Kombat 3
. Word is that the sand in Jade's Desert swirls around you in a very amazing way.
NetherRealm Studios
was kind enough to send along a few screenshots to show our readers as well, enjoy!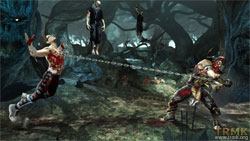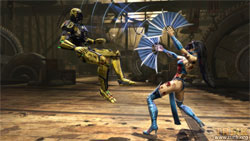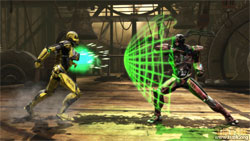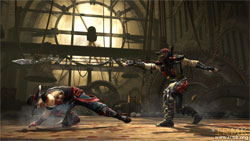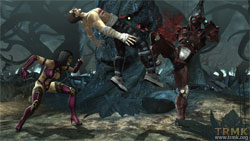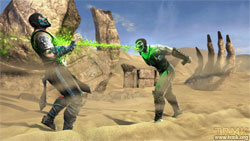 Be sure to click on the thumbnails above for the "ULTRA HD" (7680 × 4320) versions of the screenshots, which is also perfect for desktop wallpapers of all shapes and sizes!
Update 2:20pm CST
: IGN has a great
writeup on the game from GamesCom
. Included in that write up is a description of Cyrax's fatalities.
Johnny Cage's fatality is a throwback to the original Mortal Kombat where he'll uppercut the loser's head clean off, and then rip the torso right off the waist. Or robot Cyrax takes his saw blades and sheers the opponent's body into five pieces that stay together, finishing him up with a body-shattering kick.