Here is the artwork that I was rambling about earlier. Just a couple of rough sketches of my OC and Taven. I have other MK characters that I have drawn out too and I will post those later. Please forgive me for the quality I do not posses a scanner at the moment but I hope that you all like them.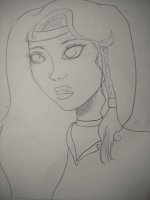 This is Karina. I don't usually do this style, this is more of toon like style that I am really fond of but I don't usually attempt it. Lol.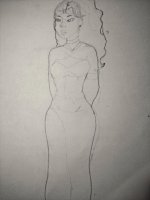 Karina again. I was going for a more semi-realism style. I was brainstorming different outfit styles and everything and I came up with this one. I am in love with the skirt and the body chain, her hair is good to me too. Her face could use more detail as well as the ensemble but it's just a rough sketch.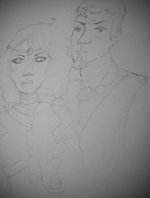 Karina and Taven. I recently drew this rough sketch after I had posted the first chapter of my story. It still needs some work done to it. I really like how her hair turned out but it will be better with detail as well as whatever I'm gonna do with his outfit lol.
But there you go! I hope you guys like them! ~