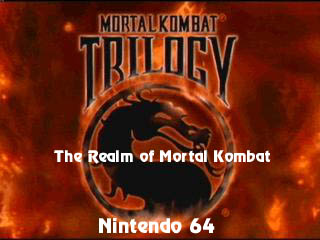 ---
Best viewed with the MK3 font!!
---
A faq in HTML composed by Jeff Greeson.


Sources

EGM's Strategy Guide. Can be found in issue: #88
EFnet IRC channel #mk3
All of your wonderful e-mails!
Active MKT

Updated 10/07/99

Indicates new since last 2 revisions
---
Key to Moves and Finishers
Moves
U - Up
D - Down
F - Forward
B - Back

HP - High Punch
LP - Low Punch
BL - Block
HK - High Kick
LK - Low Kick
RN - Run
(??) - Hold down the button

Moves
QCF - Quarter Circle Forward
QCB - Quarter Circle Back
HCF - Half Circle Forward
HCB - Half Circle Back

Finisher Distances
(sweep) - Stand away from opponent about as far away as a sweep move connects.
(outside sweep) - Stand where the sweep move is just outside of connecting.
(xxx screen) - Stand away from the opponent relative to the entire screen.

Finisher Requirements
Friendship & Babality - Defeat your opponent without using block during the last round.
Animality - Lose one round and win one round against opponent. During the fatality time of the third round, perform Mercy (RN) D - D. Defeat the opponent after he comes back to life and then perform Animality move.
---
Click here for Secret Codes and Hidden Characters
---
Moves:

Fatalities:


NOOB SAIBOT

Disabler: QCT - LP
Teleport Slam: D - U
Shadow Throw: F - F - HP
Orb Spinner: B - B - F - F - HK (sweep)
Thrower: D - D - U - RN (close & fast)
Animailty: B - F - B - F - HK (close)
Friendship: F - F - B - HP
Babality: D - F - F - F - LP
Stage: F - D - F - BL

Combos:

HP - HP - D+LP - LK

HP - LK - LK - LK
BRUTALITY:
HP - LK - LP - BL - LK - HK - HP - LP - BL - LK - HK
---
Moves:

Fatalities:


BARAKA

Spark: QCB - HP
Slicer: B - B - LP
Blade Spin: F - D - F - BL
Big Slash: B+HP
Decapitation: B - B - B - HP (inside sweep)
Knife Impale: B - F - D - F - LP (inside sweep)
Animailty: (HP) F - B - D - F release HP (sweep)
Friendship: D - F - F - HK
Babality: F - F - F - HK
Stage: (BL) LK - RN - RN - RN - RN

Combos:

HP - HP - B+HP - F+HP

HK - HK - LK - B+HK
BRUTALITY:
HP - HP - HP - LP - LP - BL - HK - HK - LK - LK - BL
---
Moves:

Fatalities:


CAGE

Low Fireball: HCT - LP
High Fireball: HCB - HP
Green Shadow Kick: B - F - LK
Red Shadow Kick: B - B - F - LK
Shadow Uppercut: B - D - DB - HP

Decapitation: D - D - F - F - LP (sweep)
Torso Kick: D - D - F - F - LK (½ screen)
Animality: D - F - F - HK (inside sweep)
Friendship: D - D - D - LK
Babality: D - F - B - B - HK
Stage: D - B - F - F - HK

Combos:

HP - HP - LP - D+HP

HK - LK - HK - LK
BRUTALITY:
HP - LK - HK - LP - HP - HK - HK - HP - HP - LP - HP
---
Moves:

Fatalities:


SONYA

2>
Rings: QCT - LP
Bicycle Kick: B - B - D - LK
Square wave punch: F - B - HP
Leg Grab: D + LP + BL

Kiss of Death: B - F - D - D - RN (sweep)
Purple blob: (BL+RN) U - U - B - D (½ screen)
Animality: (LP) B - F - D - F (LP) [close]
Friendship: B - F - B - D - RN
Babality: D - D - F - LK
Stage: F - F - D - HP

Combos:

HK - HK - HP - HP - LP - B+HP

HP - HP - LP - B+LP
BRUTALITY:
HP - LK - BL - HP - LK - BL - HP - BL - HK - LK
---
Moves:

Fatalities:


RAYDEN

2>
Lightning Bolt: QCT - LP
Reverse Lightning Bolt: QCB - LP
Torpedo Dive: B - B - F
Shocker: (HP) 3 sec release up close
Teleport: D - U
Exploding Uppercut: (HP) [away] 3 sec release up close
Exploder: (LK) 3 sec release close - BL+LK rapidly
Animality: D - F - D - HK (outside sweep)
Friendship: D - B - F - HK
Babality: D - D - U - HK
Stage: D - D - D - HP

Combos:

HP - HP - D+LP - LP

HK - HK - LK - B+HK
BRUTALITY:
HP - HP - LK - LK - LK - HK - LP - LP - LP - BL - BL
---
Moves:

Fatalities:


RAIN

2>
Control Ball: QCT - HP
Lightning: B - B - HP
Teleport Kick: B - HK
Upside-downer uppercut: F - F - D+HP (close)
Electrocution: D - D - B - F - HK (jump distance)
Animality: BL - BL - RN - RN - BL (sweep)
Friendship: D - F - F - F - LP (sweep)
Babality: F - B - B - HP
Stage: F - D - F - LP

Combos:

HP - HP - LP - HP

HK - HK - LK - HK - B+HK
BRUTALITY:
HP - HP - BL - LK - HK - BL - LK - HK - BL - HP - LP
---
Moves:

Fatalities:


CYRAX

2>
Net Capture: B - B - B - LK
Exploding Teleport: F - F - D - BL
Long Grenade Throw: (LK) F - F - HK
Short Grenade Throw: (LK) B - B - HK
Air throw:(oppnt. in air)D - F - BL - Throw
Helicopter: D - D - U - D - HP (anywhere)
Self Destruct: D - D - F - U - RN (close)
Animality: U - U - D - D (close)
Friendship: RN - RN - RN - U
Babality: F - F - B - HP
Stage: RN - BL - RN

Combos:

HP - HP - HK - HP - HK - B+HK

HK - HK - B+HK
BRUTALITY:
HP - HK - HP - HK - HK - HP - HK - HP - HK - LK - LP
---
Moves:

Fatalities:


SCORPION

Spear: B - B - LP
Teleport: QCB - HP
Air Throw: BL (in air)
Flying Elbow: QCT - HP

Fire Breath: D - D - U - HK (jump)
Hand of hell: F - F - F - B - LP (sweep)
Bum Rush: F - F - D - U - RN (close)
Animality: F - U - U - HK (close)
Friendship: B - F - F - B - LK
Babality: D - B - B - F - HP
Stage: F - U - U - LP

Combos:

HP - HP - HK - B+HK

HK - HK - LK - B+LK
BRUTALITY:
HP - HP - BL - HK - HK - LK - HK - HP - HP - LP - HP
---
Moves:

Fatalities:


HUMAN SMOKE

Spear: B - B - LP
Teleport: QCB - HP
Air Throw: BL (in air)
Inviso Possesion: F - F - B - RN (outside sweep)
Teleporting Smash: RN - BL - RN - RN - HK (½ screen)
Animality: F - F - F - B - HK (outside sweep)
Friendship: D - F - F - F - RN
Babality: D - B - B - F - RN
Stage: F - U - U - LP

Combos:

HP - HP - D+LP

HP - HP - HK - B+HK
BRUTALITY:
HP - LK - LK - HK - BL - BL - LP - LP - HP - HP - BL
---
Moves:

Fatalities:


REPTILE

Slow Forceball: B - B - HP+LP
Fast Forceball: F - F - HP+LP
Acid Spit: F - F - HP
Invisibility: U - U - D - HK
Run Around: B - F - LK
Slide: B + LP + BL + LK
Body Snack: B - F - D - BL(jump distance)
Acid Puke: F - F - U - U - HK (sweep)
Animailty: D - D - D - U - HK
Friendship: D - F - F - B - HK
Babality: F - F - B - D - LK
Stage: BL - RN - BL - BL

Combos:

HP - HP - D+LP

HP - HP - HK - B+HK
BRUTALITY:
HP - BL - HK - HK - BL - HP - LP - LK - LK - BL - BL+LP
---
Moves:

Fatalities:


JAX

2>
Single Missile: B - F - HP
Double Missiles: F - F - B - B - HP
Streaking Punch: F - F - HK
Gotcha Punch: F - F - LP
Ground Smash: (LK) 3 sec. release
Quad Slam: After throw repeadily tap HP
Stomp: RN - BL - RN - RN - LK (far)
Slicer: (BL) U - D - F - U (close)
Animality: (LP) F - F - D - F (close)
Friendship: LK - RN - RN - LK
Babality: D - D - D - LK
Stage: D - F - D - LP

Combos:

HK - HK - D+HP - HP - BL - LP - B+HP

HP - HP - BL - LP - B+HP
BRUTALITY:
HP - HP - HP - BL - LP - HP - HP - HP - BL - LP - HP
---
Moves:

Fatalities:


SEKTOR

2>
Missile: F - F - LP
Double Missles: B - B - F - LP
Heat seeker missile: HCB - HP
Teleport: F - F - LK (can be done in air)
Squasher: LP - R - R - BL (sweep)
Flame Thrower: F - F - F - B - BL (½ screen)
Animality: F - F - D - U (close)
Friendship: RN - RN - RN - D
Babality: B - D - D - D - HK
Stage: RN - RN - RN - D

Combos:

HP - HP - HK - HK - B+HK

HP - HP - D+LP
BRUTALITY:
HP - HP - HP - BL - LP - HP - HP - HP - BL - LP - HP
---
Moves:

Fatalities:


LIU KANG

2>
Low Fireball: F - F - LP
High Fireball: F - F - HP
Flying Kick: F - F - HK
Bicycle Kick: (LK) for 3 sec release
Red Bicycle Kick: (LK) F - F release

Fire Meditation: F - F - D - D - LK (sweep)
MK1 Machine Drop: F - F - F - B - BL (½ screen)
Animality: D - U - U (close)
Friendship: RN - RN - RN - D+RN
Babality: D - D - D - HK
Stage: RN - BL - BL - HK

Combos:

HP - HP - BL - LP - LK - LK - HK - LK

HP - HP - D+LP
BRUTALITY:
HP - LP - HP - BL - LK - HK - HK - LK - HK - LP - HP
---
Moves:

Fatalities:


JADE

High Boomerang: B - F - HP
Middle Boomerang: B - F - LP
Low Boomerang: B - F - LK
Boomerang Return: B - B - F - LP
Projectile Invincibility: B - F - HK
Shadow Kick: QCT - LK
Stomach Shake: U - U - D - F - HP (close)
Uppercut Stab: RN - RN - RN - BL - RN (close)
Animality: F - D - F - F - LK
Friendship: B - D - B - B - HK
Babality: D - D - F - D - HK
Stage: B - F - D - RN

Combos:

HP - HP - D+LP - D+HP

HP - HP - D+LP - LK - HK - B+LK - B+HK
BRUTALITY:
HP - LK - HP - LP - HK - HK - LK - BL - HP - HK
---
Moves:

Fatalities:


SHEEVA

2>
Teleport Stomp: D - U
Mega Stomp: B - D - B - HK
Fireball: D - F - HP
Ground Pound: F - D - D - F - LP (close)
Skin Rip: (HK) B - F - F (close)
Animality: RN - BL - BL - BL - BL (close)
Friendship: F - F - D - F -pause- HP
Babality: D - D - D - B - HK
Stage: D - F - D - F - LP

Combos:

HP - HP - LP - HK - HK - LK - B+HK

HP - HP - LP - F-HP - HP Fireball
BRUTALITY:
HP - LP - BL - LK - HK - BL - HK - LK - BL - LP - HP
---
Moves:

Fatalities:


KUNG LAO

2>
Hat Throw: B - F - LP
Teleport: D - U
Double Teleport: D - D - U
Dive Kick: D & HK (while in air)
Spinning Lao : F - D - F - RN - RN - RN
Spin Cycle: RN - BL - RN - BL - D (away)
Hat Slice: F - F - B - D - HP (close)
Animality: RN - RN - RN - RN - BL (close)
Friendship: RN - LP - RN - LK (over sweep)
Babality: D - F - F - HP
Stage: D - D - F - F - LK

Combos:

HP - LP - HP - LP - LK - HK - B+HK

LK - LK - B+HK
BRUTALITY:
HP - LP - LK - HK - BL - HP - LP - LK - HK - BL - HP
---
Moves:

Fatalities:


SMOKE

2>
Spear: B - B - LP
Teleport Punch: F - F - LK
Air Throw: BL (in air)
Invisbility: U - U - RN

Armageddon: U - U - F - D (screen)
Eat it: (RN + BL) D - D - F - U (sweep)
Animality: D - F - F - BL (¾ screen)
Friendship: RN - RN - RN - HK
Babality: D - D - B - B - HK
Stage: F - D - D - LK

Combos:

HP - HP - LK - HK - LP

HK - HK - LP
BRUTALITY:
HP - LK - LK - HK - BL - BL - LP - LP - HP - HP - BL - BL
---
Moves:

Fatalities:


NIGHTWOLF

2>
Ax Uppercut: HCT - HP
Arrow: HCB - LP
Shield Aura: F - F - F - HK
Shoulder Slam: F - F - F - LK
Red Shoulder Slam: B - B - F - HK
Moonlight Death: U - U - B - F - BL (close)
Lighting Fry: B - B - D - HP (away)
Animality: F - F - D - D (close)
Friendship: RN - RN - RN - D
Babality: F - B - F - B - LP
Stage: RN - RN - BL

Combos:

LK - HP - HP - LP - Axe - Axe - HK

HK - HP - HP - LP - B+LK
BRUTALITY:
HP - HP - HK - LK - LK - BL - BL - LP - LP - HP - HK
---
Moves:

Fatalities:


SINDEL

2>
Fireball: F - F - LP
Double Fireball: B - F - F - LP
Air Fireball: HCT - LK
Scream Pull: F - F - F - HP
Fly: B - B - F - HK

Scream: RN - BL - BL - RN+BL (close)
Hair swirly: RN - RN - BL - RN - BL (sweep)
Animality: F - F - U - HP (sweep)
Friendship: RN - RN - RN - RN - RN - U
Babality: RN - RN - RN - U
Stage: D - D - D - LP

Combos:

HK - HP - HP - D+HP

HK - HP - HP - LP - HK
BRUTALITY:
HP - BL - LK - BL - LK - HK - BL - HK - LK - BL - LP
---
Moves:

Fatalities:


ERMAC

Fireball: D - B - LP
Teleport Punch: D - B - HP
Telekinetic Slam: B - D - B - HK
Slam Massacre: D - U - D - D - D - BL (sweep)
Decapatation: RN - BL - RN - RN - HK (close)
Animality: B - B - F - F - LK (close)
Friendship: F - F - F - HP
Babality: D - D - F - D - HK
Stage: RN - BL - RN - RN - LK

Combos:

HP - HP - B+LP - HK - B+LK

HK - HK - LK - B+HK
BRUTALITY:
HP - HP - LP - BL - HK - LK - BL - HP - LP - LK - HK
---
Moves:

Fatalities:


Classic
SUB ZERO

Freeze: QCT - LP
Center ice shower: QCT-HP
Front ice shower: QCT - B - HP
Back ice shower: QCB - F -HP
Ice Clone: QCB - LP
Ground Freeze: QCB - LK
Slide: B + LP + BL + LK
Head Rip: D - D - D - F - HP (close)
Icicle Impale: D - F - F - F - HP (close)
Animality: B - B - F - D - LP (close)
Babality: D - B - B - HK
Friendship: D - B - B - F - LK (Sweep)
Stage: F - D - F - F - HP

Combos:

HP - HP - D+LP - D+HP

HP - HP - B+LK - B+HK - F+LK
BRUTALITY:
HP - LP - HP - BL - LK - LK - HK - HK - HK - LP - HP - LP
---
Moves:

Fatalities:


STRYKER

2>
High Grenade: QCT - HP 2x: HCT - HP
Low Grenade: QCB- HP 2x: HCB - HP
Riot club throw: F - F - HK
Riot club trip: F - B - LP
Rapid Fire Gun: B - F - HP
Boom: D - F - D - F - BL (close)
Tazer: F - F - F - LK (full screen)
Animality: RN - RN - RN - BL (sweep)
Friendship: LP - RN - RN - LP
Babality: D - F - F - B - HP
Stage: F - U - U - HK

Combos:

LK - HP - HP - LP

HP - HP - D+LP
BRUTALITY:
HP - LP - HK - LK - HP - LP - LK - HK - HP - LK - LK
---
Moves:

Fatalities:


KABAL

2>
Fireball: B - B - HP (also in air)
Tornado Spin: B - F - LK
Ground Razor: B - B - B - RN
Float: D - D - B - F - BL (outside sweep)
Scream: RN - BL - BL - BL - HK (close)
Animality: (HP) F - F - D - F (close)
Friendship: RN - LK - RN - RN - U
Babality: RN - RN - LK
Stage: BL - BL - HK

Combos:

LK - LK - HP - HP - D+LP

LK - LK - HP - LP - HP
BRUTALITY:
HP - BL - LK - LK - LK - HK - LP - LP - LP - HP - LP
---
Moves:

Fatalities:


KITANA

2>
Fan Lift: B - B- HP
Fan Throw: F - F - HP+LP
Square Wave Punch: HCB - HP
Kiss of Death: RN - RN - BL - BL - LK (close)
Head Slice: B - D - F - F - HK (close)
Animality: D - D - D - D - RN (inside sweep)
Friendship: D - B - F - F - LP
Babality: F - F - D - F - HK
Stage: F - D - D - LK

Combos:

HP - HP - B+LP - F+HP

HK - HK - LK - B+HK
BRUTALITY:
HP - HP - BL - HK - BL - LK - BL - LP - BL - HP - BL
---
Moves:

Fatalities:


KANO

2>
Knife Throw: QCB - HP
Knife Uppercut: QCT - HP
Grab & shake: HCT - LP
Air Throw: BL (in air)
Flying Cannonball: (LK) 3 sec. Release
Upwards Cannonbal: F - D - F - HK
Krazy Cannonball: F - D - F - LK
Skeleton Grab: (LP) F - D - D - F (close)
Eye Lazer: LP - BL - BL - HK (sweep)
Animality: (HP) BL - BL - BL (HP) [close]
Friendship: LK - RN - RN - HK
Babality: F - F - D - D - LK
Stage: U - U - B - LK

Combos:

HP - HP - D+LP - D+HP

HP - HP - HK - LK - B+HK
BRUTALITY:
HP - LP - BL - HP - BL - HK - LK - BL - HK - LK
---
Morphs:












Kitana: F - D - F - RN
Reptile: RN - BL - BL - HK
Nightwolf: U - U
Jade: F - F - D - D+BL
Sektor: D - F - B - RN
Scorpion: D - D - F - LP
Kano: B - F - BL (FAST)
Ermac: D - D - U
Mileena: RN - BL - HK
Johnny Cage: F - D - F - HP
Baraka: RN - RN - LP - BL (FAST)
Rain: RN - BL - LK
Human Smoke: BL - RN - LK
Sub Zero: BL - BL - RN - RN
Sindel: B - D - B - LK
Sonya: D + RN + LP + BL
Jax: F - F - D - LP
Stryker: F - F - HK
Cyrax: BL - BL - BL
Kung Lao: RN - RN - BL - RN
Kabal: LP - BL - HK
Sheeva: (LK) F - D - F
Liu Kang: Counter Clockwise Circle
Noob Saibot: F - D - D - B+HK
Robotic Smoke: B - B - D - LK
Rayden: BL - BL - RN - BL

Moves:

Fatalities:

SHANG TSUNG2>


Volcanic Eruption: F - F - B - B - LK
Fireballs: 1: B - B - HP
2: B - B - F - HP
3: B - B - F - F - HP
Spikes: (LP) D - F - F - D (close)
Soul Sucker: (LP) RN - BL - RN - BL (close)
Animality: (HP) RN - RN - RN (sweep)
Friendship: LK - RN - RN - D
Babality: RN - RN - RN - LK
Stage: U - U - B - LP

Combos:

LK - HP - HP - LP - B+HP

HK - HK - B+HK
BRUTALITY:
HP - BL - BL - BL - LK - HP - LP - LP - BL - HK - LK
---
Moves:

Fatalities:


MILEENA

Sai Shot: (HP) 3 sec. release
Teleport Kick: F - F - LK
Ground Roll: B - B - D - HK
Nail Spitter: B - B - B - F - LK (screen)
Eat and Spit: D - F - D - F - LP (close)
Animality: F - D - D - F - HK
Friendship: D - D - B - F - HP (close)
Babality: D - D - F - F - HP
Stage: D - D - D - LP

Combos:

HP - HP - U+LP - D+HP

HP - HP - HK - HK - U+LK - U+HK
BRUTALITY:
HP - LP - LP - HP - BL - HK - LK - LK - HK - BL - HP
---
Moves:

Fatalities:


MOTARO

Grab Punch: F - F - HP
Teleport: D - U
Fireball: HCB - HP
Head Rip: F - F - F - HK (close)
---
Moves:

Fatalities:


SHAO KAHN

Hammer: B - F - HP
Fireball: B - B - F - LP
Knee Thrust: D - F - HP
Shadow Charge: D - F - LP
Grab Attack: F - F - HP
Taunt: D - D - LK
Laugh: D - D - HK
Hammered: F - B - B - HP (sweep)
---