Those are Subz Ice puddles, that is different from Frost's Ground Freeze move which completely freezes you if you are in it's traveling path, not make you slip. Frost put her own twist on the ice puddle with the ground freeze, thus making her own move.

Frost has the ice puddle move that she got from Subz(which is the slip ice puddle like subz move) but that is not what im talking about.



Your point was that you could use different things with Fire and ice and not make them completely the same. Yes Scorpion;s fire moves are his own and are different from everyone else who uses fire, they are unique and he uses Hellfire as you said(i agree)

but Liu Kang, Shang, and kai(whom you mentioned also as having fire moves) ALL use some form of "Fireball projectile" moves. Their fire moves are similar, how they execute it differs. but they all have "Fireball projectiles".

I did not imply anything, that is what she had in the game; Twin Daggers or "Ice Daggers" as they called it, which is similar to a pair of Sai (mileena's weapons)

Skarlet did not throw "daggers", she threw small 'kunai' knives(weapons of NINJAs might I add...). There is a difference between a dagger and a kunai knife. Know your weapons buddy...

They gave Bo Rai Cho a reason not to have Liu;s moves...because he was too fat and outta shape to do them. lol

I agree with Kano and Jarek though.

Kenshi only had two moves(3 at best: but off hand: the TK ground slam and the TK toss) that were Ermac rip offs, everything else was OG for Kenshi. So IMO, they were different, plus it is only natural for the student to take a few things from the teacher. As the case is for these two, subz and frost, and most likely Cho and Kang but cho is too fat now to do any of the moves he taught his pupils. lol
It's not different.
Sub-Zero's Ice Puddle / Ground Ice move was originally intended to be used how NRS put it in MK9, which freezes, but due to the memory limitations they didn't do it back then.
So, yes, they took Sub-Zero's move and gave it to Frost.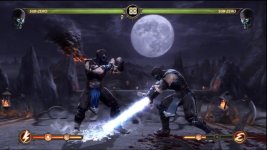 Regardless of whether Frost put her own twist on the Ice Puddle / Ground Freeze or not, it it one of Sub-Zero's signature special moves.
You don't see anyone else with Liu Kang's horizontal bicycle kicks, Johnny Cage's nut punch, Scorpion's spear or Shang Tsung's soul steal, right?
Because those moves are signature to that character.
Frost was nothing more than a cut-and-paste character, back in the day, and if she's in MK10, I hope she gets a TOTAL overhaul.
My point was that the same way that they applied different fire moves to different characters, they could do the same for Frost with ice.
She can be a great character in MK10,
IF
she doesn't copy Sub-Zero.
Thus far, NRS has yet to prove that she's a good character to me.
Exactly my point.
The moves have similar qualities to them, but they are not copy-paste.
You implied that I was saying for Frost to throw them at the same time, like Mileena does.
I was simply saying that she could have thrown them like Skartel did, in
similar
fashion, but not the same way.
If Skarlet doesn't throw daggers, then why the hell is that special move called "Dagger Toss" in her moves list?
I know my weapons, buddy.
Learn the Mortal Kombat move names before you attempt to correct me on something that I'm not wrong about.
Go look up Skarlet's move list in MK9, and come back to me on that.
Bo Rai Cho not having Liu Kang's moves because he's fat, doesn't make sense in a world where monsters, creatues, magic, 1,000-year old beings and sorcerers exist.
Bo rai cho not having Liu Kang's moves (or vice versa) is a decision by NRS, which is my point.
The same could have been done for Frost, to make her different.
Bo Rai Cho and Liu Kang not sharing moves has NOTHING to do with him being fat.
I've seen fat people that are in shape (health-wise) do lots of stuff that thinner people can't do.
Kano & Jarek = Sub-Zero and Frost to a certain degree.
While Jarek copied Kano to an extreme degree (even his fatality in MK4), Frost copies Sub-Zero's moves.
What you're saying in that last paragraph is contradictory.
Kenshi having ripped-off Ermac's moves makes him a rip-off character, and unoriginal, as does Frost and Jarek.
The only thing that was "original" about Kenshi, back in the day, was that he was blind.
MK9 changed that up for him, which is the point of this discussion.
If MK10 Frost gets a total make-over, I'm 100% open to that idea, and as much as I hated her before, NRS may be able to change my mind about her, this time around.
She has the possibility to be a GREAT character, if NRS can give her the proper revamp.
As for Cho teaching Liu Kang the moves but being too fat to do them himself, how does that make any sense?
In order for Liu Kang to do them, Bo Rai Cho had to teach him the moves at one point and be able to do them himself.
Last edited: