I was bored yesterday so I got to work on some little stuff. I noticed that I've left you guys out in the rain because I've gotten so busy with my comic. Please forgive me.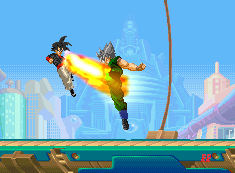 A little DBZ thing I made. I don't remember if I posted my older fakes with Tai here, but if I didn't, Tai is the son of Goten, and Shin Goku is the fusion of Goku with Shenlong. To be quick, Tai was walking through town and Shin Goku came and attempted to kick him.
Kaitetsu versus Ayame. I'd like to say I worked really hard with this one, like I used to, but I honestly didn't, I just got the idea for Kaitetsu to be in a fight with a female samurai and the fake was born. Actually, I had originally planned for someone to be attacking him from behind, but it's kind of hard to show that with a non-moving picture.
And, as a little bonus, I'll throw in some little pics I made.
Last edited: