Okay, so as anyone who hasn't been living under a rock in Siberia knows, TRMK has been everything but dead lately, I decided to create the TRMK Restoration Committee, which is run and composed of myself and me.
So, now that we've established what it is I am trying to do, we need to find out how it is I'm going to go about doing that. I brainstormed about ten thousand ideas, each one dying as soon as it was born, until I came up with this idea. Ladies, gentlemen and K1ll, I present to you, the first....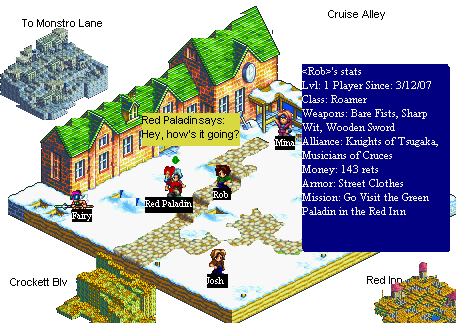 TRMK MASSIVE MULTIPLAYER ONLINE ROLE PLAYING GAME
Bare in mind that this is just a first screen-shot, and as I have no prior experience to this type of work it may take months or even years for this dream to become a reality, so here's what I ask of you. I ask for those of you who have talents, and I mean really have talents in this line of work, not just those who want to help but really don't have any idea how to make a game. I need a team, and I want it soon. Together we can make this game, and revive the fallen kingdom of TRMK!
Speaking of which, that's the story: Revive the Fallen Kingdom of TRMK. TRMK was the kingdom of the world many years ago, but the provinces in it began to dispute who the ruler should be, and eventually destroyed the beautiful paradise. Your mission: create a character and travel around the world seeking to either revive TRMK, or control your own world. There will be, initially, four classes to choose from: Roamer, a balanced class which would be the equivilant of the Thief class from Final Fantasy. Paladin, a class which is incredibly wise and will hold many keys. Knight, A warrior against the Revival, the strongest class, but not the one that many smile upon and finally you have the Ronin class, a class of ex-knight/samurai who have 3/4's the power of the Knights, but fight on the side of the Revival. Making your own characters is something I'm currently tweaking, but will be a feature I'm hoping on adding.
Okay, right now this is just an idea I am having, and without anyone's help I know I can't get it done, what with running my comic and school, but if we work as a team I know it will be possible.
So, for those of you who want to, and are able to, help, please speak up now.
VIVA KINGDOM TRMK