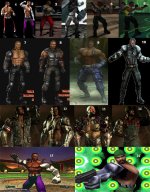 for me its:
12 -
I like all the new MKX skins in general, but this classic looking Jax skin is my favorite out of the bunch. Visually, Jax should be all about testosterone, masculinity, and strength so what captures that better than shirtless Jax covered in scars lol.
11 -
This is another great skin that came out for Jax in MKX. The vest, cigar, and the american flag simply look COOL!
7&8 -
My old favorites before MKX
3&4 -
Loved old spice Jax
2&15 -
Trademark metal arms and the purple pants...classic
1 -
Gotta love the original but now it feels off without the metal
16 -
The debut of Jax dropping the spandex for solider pants which I think was a good decision. I also like the green du-rag Jax wore in this game lol.
6 -
Minus the big, obnoxious dragon chain, this outfit was fun. Never understood the hate for it tbh.
14 -
Farmer Jax looks fun...I like it.
13 -
the dark, and edgy look doesn't really appeal to me, at all, but Jax makes this outfit work imo because of his size. It makes the outfit look more intimidating during gameplay instead of dorky looking like when Quan Chi/Reiko wear these type of outfits. Also, I appreciate all the detail NRS put into it.
5 -
hated this outfit. The barret, over design arms, and goggles just kill it for me.
9 -
lol
10 -
That's not Jax...wtf were they thinking?
Last edited: