You know what would be AWESOME!?!?! When "Carl Weathers (JAX)" has his intro with Predator.. It will go something like this:
Carl: "You are one ugly mother.."
- Camera angle moves to Predator as he interrupts the remainder of the swear word by yelling:
Predator: "RARRRRRRRRRRRRRRRRRRRRRR!" (of course in his predator voice)!!!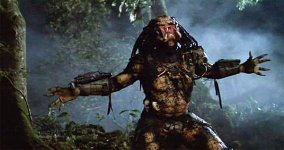 That would be a PERFECT MOVIE-TO-GAME TIE-IN QUOTE! Dont you think?