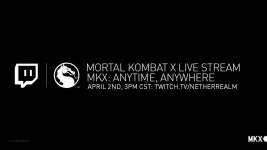 I know Goro's 5 hour Stream event on April 4th is gonna be pretty awesome. Plus it means we'll get to see more intros and fights and maybe more Living tower etc.

BUT.....We are indeed getting a stream tomorrow, which will focus around the mobile game and some more demonstrations on more characters we haven't seen yet. I'm dying to see Kenshi and Jax's gameplay and variations. Other things I want to see or hear about is...

1. I would like them to release the MKX Mobile game a day after tomorrows stream for I can get to grinding for those skin unlocks for the console game.

2. I'd like to know how many unlockables are in the mobile game for I can get a general idea on how much time I have to spend playing the mobile version.

3. I would like to see the full 25 character select screen

4. I would also like to see more background breakdowns.

5. Would be nice to see Derrick and Tyler use different characters for the title belt showdown.

THOUGHTS ANYONE?