I think every thing in mk3 was shit and lazy, the fatalities the graphics....The blood sprites didnt change, the arms floating in the air...Ahh only good thing was the game play...But its the worst of the trilogy...
I see a lot people talking about the freezing in mid air, Now I am surprised the mk team never did this, especially in mk9!
The way to still keep the opponent in the air and not ruin the game play is very very simple, nothing need be changed but a graphical effect....This way the opponent would stay in the air and stay there believably and the mechanics do not change....here is how...
one an mid air ice clone or freeze has made contact, instantly ice should sprout from the frozen victim to the ground holding him in place....Then as per usual shatter on impact once attacked....Like the pic shows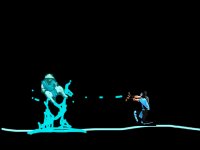 ...Im sorry and I am probally goin to get flamed, but ever since mk 2 i have always viewed the mk team as quite lazy in some of the ideas, and lacking creativty....the things that could have been done with mk9 in terms of fatalities alone annoys me....and the cartoony look, i wish they would recapture the dark serious tone of that vincents guys art instead of the bright greens an purples.....any way....it will never happen, we will be stuck with the strykers and the babalities....blegh....