i saw this on ebay (hope this is posted in the right section) :
Mini 18" Tall Mortal Kombat Arcade Machine
This one of a kind piece was completely constructed by myself from MDF board, hand painted black with laminated stickers on sides, marquee, control area and for the bezel. The unit utilizes a Mortal Kombat plug n play unit (made by Jakk's Pacific) for the games. It's 18 inches tall and weighs 14 pounds. The plug n play game requires 4 AA's (included) which can be accessed by opening the back panel just like on a regular size arcade machine. The DVD screen I used will come on automatically when you plug the unit into the wall.
The plug n play Mortal Kombat game's original buttons were desoldered from the main board and replaced with authentic arcade controls including 5 arcade buttons and an 8 way joystick - allowing for all the moves and fatalities to be performed just as if you were playing a full size version!
Lots of people responded that they'd love to see a Mortal Kombat game made at this size, so here's your chance to own it! Due to shipping costs I'll only sell this to the USA only. Sorry out of country people! I will also include some extra stickers for the marquee and arcade button areas. That way, in case anything ever happens to them (such as kids, cats, act of god, what have you preying upon your precious toy), you can pull off the old ones and replace them. Good luck and hope you win!
Photo's :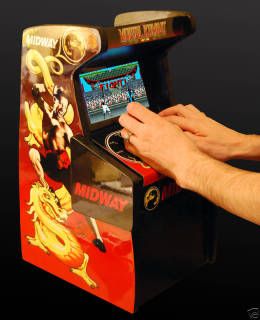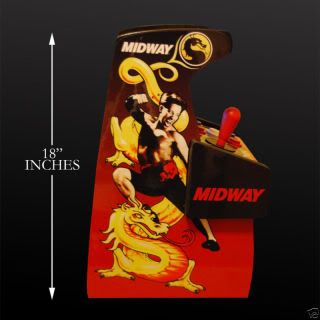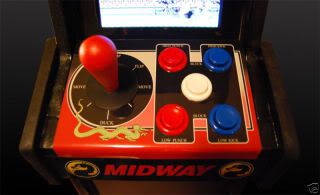 Movies:
http://www.youtube.com/watch?v=7FxppFayk_A
http://www.youtube.com/watch?v=z8g3f9-06no