(Hey! I just have ideas burst through my head and I've decided to post another story. I will update Daylight and Darkness as soon as possible. I am working on it right now lol. Now this is a very short, tiny morsel of a chapter and it is in first-person, this will be the only chapter in first person, the story will be third person unless it will be a short chapter where I will write about a character's mind. But anyway, I hope that you enjoy this little chaplet lol and thank you so much for reading!)
*****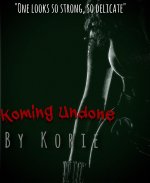 *****
Introduction:: The Musings of an Assassin
"They will know my name..."
​
***
I've been called an enigma; a monster even. It's the only thing that I ever remember being. Even now, as my dagger carves through the skin of the enemy, I feel that brutal emotion of that monster inside of me. The smooth rupture of every inch of the skin as my blade slides through effortlessly. The blood popping and marring my skin as I continue my work. It's nothing to me, not anymore. This is what I am trained for. This is my work. I turn my knife, hearing the popping and punctures of organs and the clicking of bones before I yank the blade out. The thin membrane from the organ lining my blade, making me sneer and wipe it against the pants of my black jumpsuit.
I let my eyes looked over the cadaver in front of me before I raise up to my feet, my boots grinding into the gravel beneath me as I then smile. It was a beautiful sight. I bring my finger up to my face, catching a drop of blood and gently sucked it from my finger. I always had a fetish to taste the blood of my conquered prey; prey that threaten the solid foundation that is the CJDA or the Chinese Juvenile Development Agency.
I shake my head as I think about the name. I do every single time. I continue to let my eyes roam over the dead body before I yank the radio from my belt, pressing down on the button on the side of it.
"I've chastised the enemy...,"I say gently into the radio, listening through the static until it got the clear to make my way back to the base.
I sneer and yank the chain from around the neck of the body and tucked it around my belt before I slide my way out of the room that held my latest kill, stepping over the bloodied bodies that I had handled minutes before, my bloody footsteps following behind me as I headed for what held for me next.
My name is Arely Tran and I am a trained assassin.
***