I am going to add all metal genres but here are some to start. Just gonna throw it out there now that black metal rules \m/
LONG POST ALERT. I have Doom Metal ready on my notepad but don't want to double post because we don't encourage that here so I will add it with some other metal genres probably tomorrow =)
What is it?​
Gothic metal is a subgenre of heavy metal that mixes gothic metal's dark melancholy elements with the aggression of heavy metal music and consists of lyrics that are melodramatic and mournful. Gothic metal came to be in the early 90's, stemming from Europe. The music itself is rather dark, depressing and romantic. The vocals in the genre depend on the band. Some prefer growls, shrieks, screams, some prefer opera, and others prefer just plain clean vocals. A number of bands have growling/shrieking/screaming male vocals while their female vocalist keeps her singing clean. This genre has a bigger female demographic in terms of vocalists in general and, contrary to the genre name, not all band members look like a bunch of goths. Some look and dress like the average person, whereas, other bands do take on the full out goth look.
Some examples of gothic metal bands:
Theatre of Tragedy
are credited as the band that introduced the 'beauty and the beast' pairing of clean female vocals with harsh male vocals. Gothic metal as since become mainstream in Europe.
One of the most famous gothic metal bands in the US is Italy's Lacuna Coil, fronted by Cristina Scabbia and Andrea Ferro, though their sound has changed a bit over time.
The most popular countries that produce gothic metal bands are England, The Netherlands, Finland, Norway, Sweden, Italy and Germany.
What is it?​
Death metal is an extreme subgenre of heavy metal that includes heavily distorted guitars, deep growling vocals, blast beat drumming, and complex song structures with multiple tempo changes. It's basically early black metal and thrash thrown together. The genre became popular in the late 80's/early 90's when a large quantity of death metal bands were signed to very popular labels.
Death metal came about in the 80's and was inspired by a number of thrash bands, including Slayer and Kreator.
Death metal lyrics are often about slasher film-stylized violence and sometimes touch on topics like Satanism, anti-religion, Occultism, mysticism, philosophy and social commentary. A lot of the bands don't actually participate in these things, though, they just use it as their lyrical content.
Some examples of death metal bands:
There are many subgenres of death metal:
Tech death metal/prog death metal
is more complex and includes dynamic song structures, uncommon time signatures, atypical rhythms and unusual harmonies and melodies. Death metal elements are fused with elements of progressive rock, jazz or classical music. Some examples of tech/prog death metal bands:
Melodic death metal
(also known as
melodeath
) consists of heavy metal music mixed with some death metal elements, such as growled vocals and blastbeats. Some examples of melodic death metal bands:
Death/Doom
is basically doom metal's slow tempos and melancholic atmosphere with the elements of death metal. An example of death/doom:
Goregrind/Deathgrind
includes the speed, brevity and intensity of grindcore with the complexity of death metal. Shrieking vocals are the main style. Some examples of goregrind/deathgrind bands (two with a thing for farm animals, lol):
Blackened death metal
consists of black metal elements fused with death metal elements. Their lyrics often consist of evil themes, Satanism, and occultism. Some examples of blackened death metal bands:
Deathcore
is the fusion of death metal and metalcore. Fast drumming, tremolo picking, down-tuned guitars, and partially growled vocals are combined with screamed vocals, melodic riffs and breakdowns. Some examples of deathcore bands are:
Chuck Schuldiner
​
Chuck Schuldiner
is a very important name in death metal. He was the singer of the band Death, who are hailed as one of the pioneers of death metal. Chuck, who is considered 'The Father of Death Metal', was diagnosed with brain cancer in 1999, which he would battle until his death. In 2001, he got pneumonia and died on December 13th. He was 34 years old.
What is it?​
Black metal is a subgenre of heavy metal. It consists of fast tempos, blast beat drumming (basically, very fast drumming), unconventional song structure, some shrieked vocals, and highly distorted guitars that are played with
tremolo picking
(double picking).
There were two waves of black metal bands. Venom, Bathory, Hellhammer and Celtic Frost were a part of the first wave. The 90's brought forth the second wave with bands like Mayhem, Burzum, Darkthrone, Immortal and Emperor.
A lot of people get a certain image of black metal, largely due to old school black metal. Black metal originated in the '80s. The lyrics were satanic, anti-Christian and a large number of BMs band wore the signature black and white make up. The times have changed a bit for black metal so I will run down some myths and truths about black metal so people can get a better understanding of the genre.
The myth
: Black metal is a bunch of people wearing corpsepaint, screaming/growling/screeching about Satan. All of their fans are gothic/weirdos and worship the devil.
The truth
: This is just another stereotype by people who don't actually know anything about the genre.
Myth #1 - They all wear corpsepaint.​
Yes, many black metal bands do wear corpsepaint. It is basically the general 'look' of a black metal band and a signature of the genre. Fact is, not every black metal band throws on ridiculous scary clown make-up.
Example #1 - Hate Forest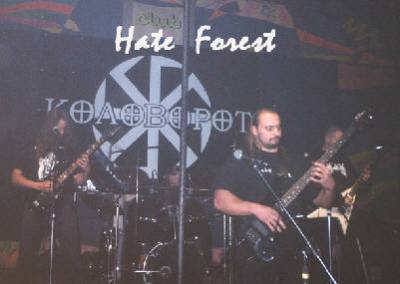 Example #2 - Burzum
Example #3 - Emperor
Just three of the many BM bands that do not run to their local Halloween store and purchase black and white make-up. Pretty normal looking guys. No crazy look to them.
Myth #2 - Black metal is all growls/screams/screeches.​
This may surprise you but, no, this is not what all black metal consists of. A wide selection of black metal is just music. Some are mostly music with very minimal vocals.
Example #1 - Drudkh
Example #2 - Astrofaes
Example #3 - Burzum
Myth #3 - They all sing about Satan.​
Besides the corpsepaint, this is probably one of the biggest assumptions about black metal. Fact is, not all black metal bands pen songs about Satan/Satanic themes.
Example #1 - Drudkh
Their lyrics are about Slavic mythology, seasons and poetry.
Example #2 - Blood of Kingu
Their lyrics are about Sumerian/Ancient Egyptian and Indo-European mythology and history.
Example #3 - Astrofaes
Their lyrics are about Slavonic pride and folklore.
Though many bands focus on religious themes, not all of them are about Satan. Not every band worships the devil.
Myth #4 - All of their fans are gothic/weirdos who worship the devil.​
I think I look pretty normal for a black metal fan. I am sure there are other people here who like black metal and look like normal human beings. I don't believe in Satan, either.
This is by no means meant to shove black metal down your throat and make you like it. This is just to educate you on black metal and separate fact from fiction. A lot of people don't give the genre a chance because of the very assumptions brought forth in this thread. It scares people away when there is plenty of BM music that is extremely enjoyable and does not fit the stereotype of the genre. Hopefully, this will open some eyes and people will take a few moments to listen to some of it and appreciate it now for it isn't what they thought it would be.
I understand that the harsher vocals aren't everyone's thing but bands like Burzum really do use more music than vocals so that would perhaps be a pretty good start for people who are interested in trying it out. You can even find a few gems on black metal albums that aren't even black metal songs. The song
Smell of Rain
by Drudkh was used to close out one of their albums.