TRMK Admin, Co-founder
Staff member
I've come to notice that IMDB is NOT accurate at all about the cast of Injustice, so for now here's the unofficial cast list. A lot of fans have tried correcting me via the IMDB list, but my ears are really good for actors that I recognize via prior work. So I figured I'd maintain a list until IMDB's listings are fixed.
Thanks to NetherRealm's Cinematic Director Dom Cianciolo who filled in a few blanks via
his posts on Twitter. Be sure to follow him @domcianciolo
.
There are also potential spoilers here due to a few character mentions. I'd stay away if you haven't beaten Story Mode.
VOICES
Stephen Amell
- Green Arrow "Arrow" DLC Costume
Troy Baker
- Sinestro & Nightwing (Dick Grayson)
Adam Baldwin
- Green/Yellow Lantern
Kimberly Brooks
- ?
Amy Carle
- Announcer
Kevin Conroy
- Batman
Grey DeLisle
- Catwoman
Debra Doetzer
- ? Ladder Endings Announcer (via IMDB)
Susan Eisenberg
- Wonder Woman
Richard Epcar
- The Joker
Jennifer Hale
- Hawkgirl & Killer Frost
J. G. Hertzler
- Deathstroke & Ares
Phil LaMarr
- Aquaman
Neal McDonough
- The Flash & Nightwing (Damian Wayne)
Joey Naber
- Black Adam & Shazam!
George Newbern
- Superman
Nolan North
- ?
Khary Payton
- Cyborg
Mark Rolston
- Lex Luthor
Patrick Seitz
- ?
David Sobolov
- ? Lobo ?
Tara Strong
- Harley Quinn & Raven
Fred Tatasciore
- Bane, Grundy & Doomsday
Alan Tudyk
- Green Arrow
MOTION CAPTURE CINEMATIC ACTORS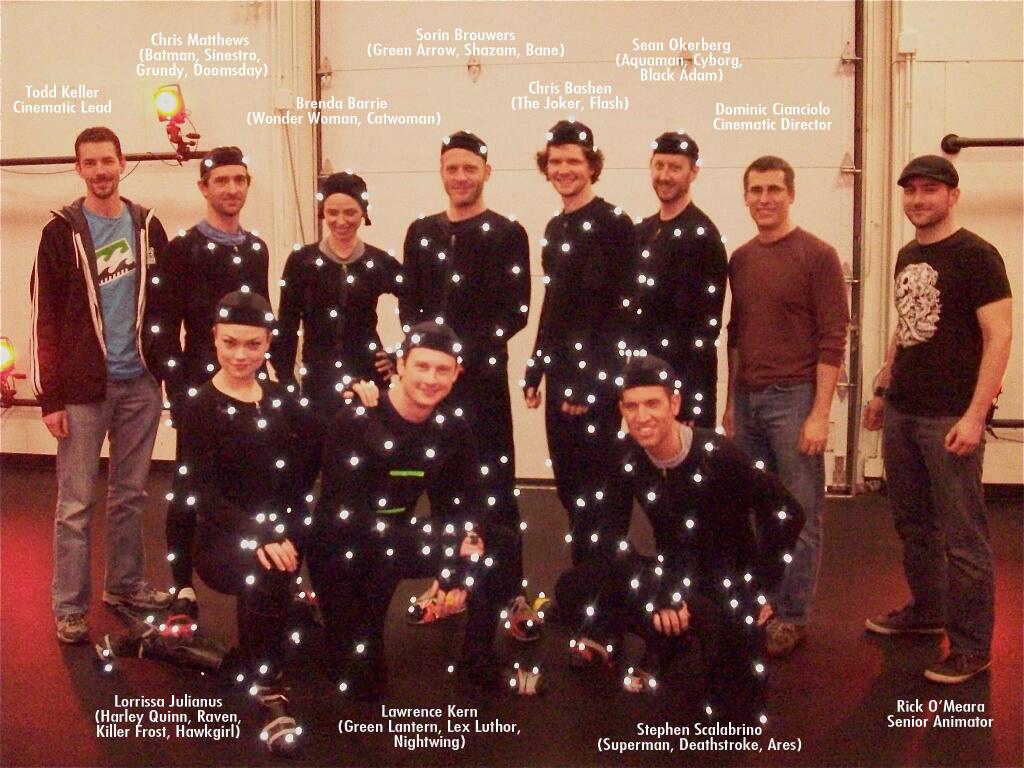 Chris Matthews - Batman, Sinestro, Grundy & Doomsday
Brenda Barrie
- Wonder Woman & Catwoman
Sorin Brouwers
- Green Arrow, Shazam & Bane
Chris Bashen
- The Joker & The Flash
Sean Okerberg
- Aquaman, Cyborg & Black Adam
Stephan Scalabrino
- Superman, Deathstroke & Ares
Lawrence Kern
- Green Lantern, Lex Luthor & Nightwing
Lorrisa Julianus
- Harley Quinn, Raven, Killer Frost & Hawkgirl
Last edited: