The
Official Mortal Kombat Armageddon Website
has updated the
"question mark" page
with a new render. This time it is of the
Shang Tsung
and
Liu Kang
on the
Sky Temple
stage from
Mortal Kombat: Armageddon
. This stage features multiple landings below the top stage area. Knock your opponent off the edge and they will eventually meet a bloody death at the concrete below.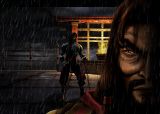 Mortal Kombat: Armageddon
is the last chapter in the current generation of
Mortal Kombat
games. Featured only on
Microsoft Xbox
and
Sony PlayStation 2
, the game will have the largest roster of characters and also feature a new "kart" racing mini-game dubbed
Motor Kombat
.
Thanks
The 7th Number
.