Another weekend brings us an additional cut-scene screenshot on Mortal Kombat co-creator Ed Boon's personal website,
noob.com
. Ed continues to give us a tiny look at the single player campaign of
Mortal Kombat vs. DC Universe
. This screenshot shows two shadowy figures, and one is pleading for his life it sounds like over some owed money. This again shows some great use of cinematic techniques in the game, I can't wait to see the single player story unfold in game.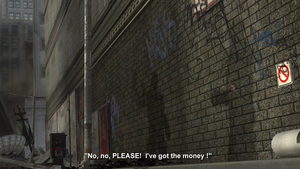 Click To Enlarge